Program Notes: Classics IV – May 2022
CAMILLE SAINT SAËNS
Concerto No. 1 in A minor for cello and orchestra, Opus 33
Charles Camille Saint-Saëns was born in Paris on October 9, 1835, and died in Algiers on December 16, 1921. He composed the First Cello Concerto in 1872; it was premiered on January 29, 1873, with the Paris Conservatory Orchestra. The orchestra's principal cellist, August Tolbecque, was the soloist and received the dedication of the work. In addition to the solo part, the score calls for pairs of flutes, oboes, clarinets, bassoons, horns, and trumpets, as well as timpani and strings. Duration is about 19 minutes.
As a young man, Saint-Saëns was dazzling in his quickness, whether in music or almost any other field of study. By the time he was three he had composed his first little piece, and by the age of ten he had made his formal debut as a pianist at the Salle Pleyel in Paris with a program of Mozart and Beethoven concertos (then little heard and not respected in France). As an encore he offered to play any one of Beethoven's piano sonatas from memory!
He learned Latin from a private tutor and quickly made his way through the classics, years later regretting that he had never had time to learn Greek, too. He became particularly interested in mathematics and the natural sciences, and for the rest of his life he pursued studies in astronomy, archaeology, and geology. He entered the Conservatoire at the age of thirteen, won prizes as an organist, then studied composition with Jacques Halévy. Although he never won the Prix de Rome, recognition of his creative talents came early. Not without reason, Hector Berlioz, wittiest of romantic composer-critics, said of him, "He knows everything but lacks inexperience."
In the early years Saint-Saëns was a devotee of the new music of Wagner and Liszt, defending Tannhäuser and Lohengrin against the attacks of French critics. He played Schumann in his recitals, then almost unheard-of in France. Liszt inspired his own significant ventures into the medium of the symphonic poem. He worked on behalf of older composers as well: Bach, Handel, Rameau, Gluck, and Mozart. In short, he was a representative of many of the newest trends in music (even his historical interests made him "modern," since it was just at this time that the discipline of musicology, and its active pursuit of older music, was developing).
Following the shock of French defeat in the Franco-Prussian War (including months of debilitating siege in Paris in late 1870 and early 1871), Saint-Saëns was one of the leaders of a movement to re establish French art, particularly with the aim of promoting musical forms that seemed to have been dominated for decades by German composers. This meant the abstract instrumental forms of symphony and concerto. Since the early years of Berlioz's career, there had been virtually no French composers interested in large-form concert music; the opera and ballet attracted the attention of composers and audiences. Soon after the Siege of Paris was lifted, Saint-Saëns founded the Société Nationale de Musique, with the motto "ars gallica," to promote new French music, especially in the abstract genres. In addition to Saint-Saëns himself, the Society included in its organizing committee Fauré, Franck, and Lalo. Over the years the Society sponsored premieres of important new works by leading French composers.
Among the first such premieres was founder's own first cello concerto. During the 1850s and 1860s, Saint-Saëns had already composed three piano concertos and two violin concertos, but in general these early works were relatively light in character with frivolous finales that suited the prevailing mood of the frivolous Second Empire (so well characterized by the flippant operettas of Jacques Offenbach). The Cello Concerto is altogether more serious. The opening movement is unusually passionate in character (especially for a composer of such even-tempered disposition), and the formal organization of the work is quite original. Moreover, Saint-Saëns solved the besetting problem of cello concertos: how to let the relatively low-pitched solo instrument project through the full orchestra. He did this largely through extraordinarily delicate scoring, reserving the full orchestra only for punctuation or the few brief passages when the soloist was not playing.
As befits an admirer of Liszt, Saint-Saëns makes imaginative use of thematic transformations, building much of his work from motives heard in the opening bars. The soloist begins instantly with a triplet-filled theme that sweeps downward, to end in a half-step rise and fall, E F E, echoed at once an octave lower. Both the triplet sweep and the half-step motive dominate the musical discourse of the first movement. A broadly conceived solo passage links the first movement directly to the second, which opens (in B-flat) with a delicate 3/4 dance of minuet character in the orchestral strings. As the cello solo sweetly intones its song over the dance figure, the character broadens almost to a waltz. Following a solo cadenza and the dying away of the waltz passage, Saint-Saëns links the middle movement to the finale with a transition based again on the principal motives of the opening movement. The main theme of the finale subtly combines elements from each of the first two movements, growing in virtuosic display to a brilliant finish in A major.
JOHANNES BRAHMS
Symphony No. 1 in C minor, Opus 68
Johannes Brahms was born in Hamburg on May 7, 1833, and died in Vienna on April 3, 1897. He completed his First Symphony in 1876, though some of the sketches date back to the 1850s. Otto Dessoff conducted the first performance in Karlsruhe on November 4, 1876. The symphony is scored for two flutes, two oboe, two clarinets, two bassoons and contrabassoon, four horns, two trumpets, three trombones, timpani, and strings. Duration is about 45 minutes.
Brahms was only too aware that he was treading in the footsteps of giants. Beethoven in particular was an overwhelming gray shadow behind him. Brahms's fear of direct comparison and his own high standards made it difficult for him to create works in any medium that Beethoven had made uniquely his own. In chamber music he started with string sextets instead of with a string quartet for precisely that reason. He was fully mature before he created a string quartet that he was willing to allow out into the world, and even older before he began a symphony. It was not for want of trying! He had started symphonies time and again for nearly two decades, but in every case he either abandoned unfinished or turned the music into some other kind of piece (elements of both the First Piano Concerto and the German Requiem were at first intended for a symphony). Abandoned works he simply destroyed (he was painfully aware of the way musical scholars were studying Beethoven's sketches for clues as to the way he created his music, and he did not want anyone second-guessing him!)
Finally, at forty three, in 1876, Brahms completed a symphony that met his standards and let it out into the world. He had been working on it actively since 1868 at least, when he sent Clara Schumann the horn theme of the finale. This is an amazingly late age for a composer who distinguished himself as one of the greatest of symphonists. Beethoven had been a relative latecomer at thirty. Schubert and Mendelssohn had composed symphonies in their early teens, and Mozart (an exceptional case, to be sure) at the age of eight! Even Haydn wrote his first symphony some time in his late twenties—though he had the added task of practically inventing the entire genre!
Still, once he finally let his first symphony go, Brahms was ready to try again at once, and in the next ten years he composed his other three symphonies, scores that elevated him to a rank barely behind Beethoven as one of the supreme masters of the symphonic form.
The first symphony was a tough nut for first listeners to crack. Even a quarter-century later, when Boston's Symphony Hall was built, a local critic suggested that signs be posted over the doors reading, "Exit in case of Brahms." It is hard to us to imagine that music we hear so frequently, and with such satisfaction, should have been regarded as exceptionally difficult to listen to, devoid of melody or charm or grace (all charges that were leveled against Brahms's symphonies). Of course, even a half century after the death of Beethoven, when the Brahms First appeared, it was still not easy for a music-lover to know his symphonies well, because one had no choice but to hear them in performance, and only the handful of orchestras in major musical centers could even hope to perform them at all well. And even the relatively small number of listeners who knew the Beethoven symphonies well would have found Brahms—for all his admiration of Beethoven and all his moments of homage to the older master—to be exceptionally novel and hard to figure out.
One of the main reasons for the difficulty is that Brahms was one of the great masters of musical variation. Rarely does he simply repeat an idea literally. Almost always he rings changes on his material, sometimes so effectively that one may hear it many times without recognizing it as a varied version of something already heard. Thus, without the clear signposts offered by obvious repetition, his music frequently sounded shapeless, especially at first hearing. And then, owing to the richer and more varied harmonic possibilities that had developed in the half century since Beethoven, and Brahms's own extraordinary subtlety in harmonic treatment, it wasn't always so easy to recognize exactly where the music was headed or even when it arrived. Of course, multiple hearings and greater familiarity with the music did away with some of those difficulties—but until the development of recordings that we can listen to over and over at our own schedule, there was almost no opportunity to develop that kind of acquaintance with a piece unless you were enough of a musician to play through it yourself. (To be sure, the late 19th century was an age in which many people did play the piano well, and all of the newest symphonies—including those of Brahms—were published in four-hand arrangements, so that a pair of pianists interested in penetrating to the core of a work could study it at home, companionably seated next to one another at their parlor piano.)
Still, the works were a challenge. Brahms himself admitted that his First Symphony it was "not exactly amiable." It traces a lengthy progress from the dark tension of its opening C-minor to a glorious and sunny conclusion in C major. In this respect it follows a plan similar to that of two of Beethoven's most famous symphonies, the Fifth (in its choice of key) and the Ninth (in achieving its bright conclusion with a theme of such universal melodic appeal that it lingers forever in the ear).
The symphony opens with a tense introduction that provides the principal germs of the first movement. It is astonishing to realize that the introduction was an afterthought. Brahms originally began the movement with music heard when the main (fast) tempo arrives, but he decided that this made for too abrupt a start. So he created a lengthy introduction that seems to put us instantly in the middle of some titanic struggle made up of pounding timpani strokes and a tense, syncopated, rising chromatic line that suggests utter seriousness ahead. So cleverly did Brahms invent this introduction out of ideas that form the main theme of the movement that we could easily be convinced that it was the other way around—that the slow introduction somehow gave rise to the main theme.
Yet this lengthy moderato opening prepares the main argument of the movement; the Allegro takes up the idea of the timpani strokes (abstracted into the other instruments of the orchestra) and the rising chromatic line. Its mood is prevailingly somber, its darkness only slightly relieved by the horn and wind colors in the secondary theme.
Brahms's concern for unity reveals itself through the reworking of musical ideas from one movement to another: the attentive listener who pays particular attention in the opening seconds of the symphony will find that many later passages make frequent reference to the passing chromatic notes of the introduction. An oboe theme in the slow movement foreshadows a clarinet theme in the next movement; and so on. The inner movements are essentially lyrical, expanding on the character of the dolce (sweet) and espressivo (expressive) markings that appear occasionally in the opening movement. The oboe theme in the second movement is wonderfully calm and expansive. The third movement is entirely grazioso (graceful), far removed from the struggles of the first and last movements. It is also harmonically far afield from the home key, a brief visit to a gentler world.
Like the opening movement, the finale begins with a lengthy introduction that plays an important part, starting out in the minor mode (as the whole symphony had done), but reaching for a new goal through a constant sense of struggle. This is finally achieved with the arrival in C major and the appearance of the magnificent horn theme that Brahms had sent to Clara in 1868. He sent this melody in a letter from Switzerland dated September 12, 1868, in anticipation of Clara's birthday the next day. Above the melody he wrote, "Thus sounded the alphorn today," and underneath the notes, he wrote German words (as if thinking of this as a song): "High on the peak, deep in the valley, I greet thee many thousand times."
It is not clear when he decided to include this melody as the climactic point of the last movement's slow introduction, but it establishes, for the first time, a sunny and airy sense of C major, the key toward which the symphony ultimately aims. Another fascinating feature about this long-breathed theme can only be seen on paper, not heard in performance: it offers a trompe-l'oeil to the listener. It sounds like a wonderfully serene melody played by a single horn; but Brahms divides it between first and second horns so it can seem virtually unending, with no apparent pause for breath.
The trombones enter, for the first time in the entire symphony, with a chorale melody, building up to the first statement of the main theme—a hymnlike C-major melody first hinted at (though in the minor) in the opening bar of the movement. Brahms was short-tempered with those who pointed out that it sounded like a rerun of Beethoven's Ninth: "Any ass can see that!" he retorted. It marks the onset of the final struggle to establish C major, which is finally achieved with a climax for the entire orchestra on the trombone chorale melody and a powerful affirmation of major key, achieved through a carefully crafted battle plan that conquers all in the end. The shade of Beethoven would have been pleased with his disciple.
BRAHMS Symphony No. 1 in C minor. Opus 68
Un poco sostenuto—Allegro
Andante sostenuto
Un poco Allegretto e grazioso
Adagio—Più Andante—Allegro non troppo, ma con brio
Program Notes: Classics III – March 2022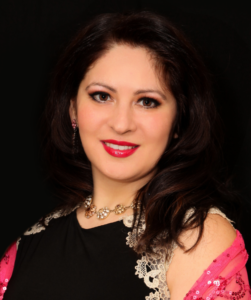 Olga Lisovskaya, soprano
A Newton resident, Olga Lisovskaya is a native of Kyiv, Ukraine. She holds degrees from Middlebury College, École Normale de Musique d'A. Cortot in Paris, France and L'Institut des Sciences Politiques in Paris, France. A critically acclaimed classical singer, Olga Lisovskaya's career involves both singing on prestigious concert stages, including Carnegie Hall and Jordan Hall, and producing successful projects with Talents of the World, an international concert organization. Olga produced award-winning opera productions at Commonwealth Lyric Theater, a Boston-based opera company, and Talents of the World's Annual Music Festival at Carnegie Hall. As a performer, Ms. Lisovskaya's concerts have been featured on Ukrainian, Italian and American TV. She is a director and judge of the prestigious Talents of the World Annual International Voice Competition. Olga is also a founder of a nonprofit organization, Music, Arts and Fashion Productions. Being a passionate connector, Olga serves as Managing Partner at Sky International Center, a social, cultural and business network of 20,000 members in New England. Ms. Lisovskaya is a sought-after voice teacher. Olga's life purpose is to inspire positive change through connections for life, coaching and art performances. www.OlgaLisovskaya.com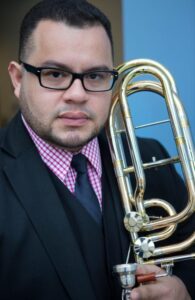 Angel Subero, trombone
Angel Subero is a Venezuelan trombonist who attended the Conservatorio Itinerante in Caracas, Venezuela, where he studied with the legendary Michel Becquet. After coming to the United States in 2001, he attended Boston Conservatory, where he studied with Lawrence Isaacson, and New England Conservatory of Music, where he studied with Douglas Yeo. He also studied with John Rojak at the Aspen Music Festival.
Subero has performed with numerous orchestras, including the Boston Symphony Orchestra, Boston Pops Esplanade Orchestra, Boston Ballet, Pittsburgh Symphony, American Composers Orchestra, the Venezuela Symphony, Simon Bolivar Symphony, and the Boston Modern Orchestra Project, to name a few. He has worked with such conductors as John Williams, Seiji Ozawa, Kurt Masur, Sir Colin Davis, Christoph von Dohnanyi, Keith Lockhart, and Robert Spano, among many others.
In the realms of jazz, Latin and commercial music, Subero has appeared with artists such as Bob Brookmeyer, Aretha Franklin, Slide Hampton, Jim McNeely, Claudio Roditi, Danilo Perez, Chris Botti, and many more.
Ukrainian Reflection
"Oh Bright Moon" from the first Ukrainian opera; "Cossack Beyond the Danube" was written by S. Hulak-Artemovsky in 1936 and was arranged for soprano and strings for this performance by Luke Blackburn.
English Translation:
Oh, bright moon, beautiful stars,
(which are) The shining eyes of the dark night,
I beg you, lighten my chest,
Bring news from my homeland!
Oh, gray eagle, fast falcon,
which live freely in an enviable destiny,
I beg you, lighten my chest,
Bring news from my homeland!
Oh, quiet Danube, green grove,
Strong waves, mighty winds,
I beg you, lighten my chest,
Bring news from my homeland!
WILLIAM GRANT STILL (1895-1978)
Danzas de Panama
The prolific composer William Grant Still was experienced in just about every aspect of music in American life, and his talents were such that he became a pathbreaker in all of them. He was the first black to have a symphony performed by a major orchestra, the first black to conduct a major symphony orchestra, the first black to have an opera produced by a major opera company, and the first black to conduct a white radio studio orchestra. He worked in both "popular" and "classical" styles. After studies at Wilberforce College (which he left without a degree) he worked for W. C. Handy. Later he enrolled at Oberlin Conservatory, where he was encouraged to compose. He played the oboe in theater orchestras (including that for Sissle and Blake's landmark show Shuffle Along) and studied in New York with Varèse. George Chadwick offered him a scholarship at the New England Conservatory and encouraged him to compose specifically American music. He was an arranger for Handy, Paul Whiteman, and Artie Shaw. He conducted the CBS studio orchestra for the radio show "Deep River Hour" in New York, and he worked in Hollywood for films and television (including "Gunsmoke" and "Perry Mason"). Still was a prolific composer in all musical forms, creating a total of five symphonies, nine operas, four ballets, and many other works. His Afro American Symphony was performed by the Rochester Philharmonic in 1931; it marked a breakthrough for serious concert music by black composers.
In a career so long and so marked by prolific creation in every possible medium, it has been difficult to get a firm handle on Still's full achievement. But with the substantial number of revivals of his work in the year of his centennial, 1995, and a large number of new recording and reissues of older recordings, it has become clear that he was a composer of extraordinary range, warmth, and color. Whether writing music in a consciously "ethnic" style (Latin American rhythms, African-American spirituals, or even Jewish melodies) or in jazzy arrangements or serious concert works, Still was a master of all he undertook.
Danzas de Panama is a suite of four dance melodies that had been collected by Elizabeth Waldo. Still arranged them first for string quintet, then again for string orchestra. In both versions he was concerned to capture the spirit of the original dances and their Panamanian character, and he did this by calling for special effects from the instruments. The Tamborito is, as its name ("little drum") suggests, basically a percussive dance, and Still calls for the players to rap with their knuckles on the backs of their instruments. The Mejorana is a dance in improvisatory style usually played by several guitars (in counterpoint) and a three-stringed native instrument similar to a violin; such a combination is easily adapted to the instruments of a string orchestra. The Punto is a graceful dance in 6/8 time with two sections whose names suggest foot movement: Zapateo ("shoe tapping") and Paseo ("promenade"). The final dance, Cumbia, is the most sensuous of them all and the one least linked in any way to European dance elements. When danced in Panama, the women move through the streets holding lighted candles above their heads, while the men dance around them in an abandoned manner.
–Steven Ledbetter
FELIX MENDELSSOHN
Symphony No. 4 in A, Opus 90, Italian
Jakob Ludwig Felix Mendelssohn was born in Hamburg on February 3, 1809, and died in Leipzig on November 4, 1847. He began composing the Italian Symphony while in Rome in the late winter and spring of 1831. Its first performance took place in London at the concerts of the Philharmonic Society on May 13, 1833. The symphony is scored for flutes, oboes, clarinets, bassoons, horns, and trumpets in pairs, timpani, and strings. Duration is about 27 minutes.
As the scion of a well off middle class German family, Felix Mendelssohn undertook the Grand Tour to the centers of Classical culture in Italy; his tour was somewhat grander than most, lasting from May 1830 to late June 1832, including long stops in Rome, Paris, and London (this latter was familiar territory, since he had already spent some eight months in the British Isles in 1829). Mendelssohn was a great letter writer; his travel impressions have been preserved in a voluminous correspondence embellished with his elegant water-color drawings. His account of travel experiences, sightseeing, and visits is a delightful one, with reports here and there of musical plans.
From Rome on December 20, 1830, Felix wrote to his family, "The Hebrides [Overture] is completed at last, and a strange production it is." After mentioning a few small vocal pieces he was working on, he added, "After the new year I intend to resume instrumental music, and to write several things for the piano, and probably a symphony of some kind, for two have been haunting my brain." The two symphonies in question were the ones we know as the Scottish and Italian symphonies. The first of these, like the Hebrides Overture, was a reaction to his visit to Scotland the year before, while the Italian Symphony grew out of his new experiences in Rome and Naples.
Just after Christmas Felix complained of absolutely miserable rainy weather which, no doubt, made it easier for him to settle down to composition instead of running off to Tivoli for a visit to the Este villa and its exquisite gardens and fountains or some other sightseeing wonder. And though the weather became springlike by mid January, he was able to write on the 17th that "the two symphonies also begin to assume a more definite form, and I particularly wish to finish them here." In any case, by February 22, 1831, Felix wrote to his sister Fanny (herself a gifted composer):
I have once more begun to compose with fresh vigor, and the Italian symphony makes rapid progress; it will be the most sportive piece I have yet composed, especially the last movement. I have not yet decided on the Adagio, and I think I shall reserve it for Naples…The Scottish symphony alone is not yet quite to my liking; if any brilliant idea occurs to me, I will seize it at once, quickly write it down, and finish it at last.
He remained in Rome through Easter in order to experience the full effect of the Papal choir's liturgical music, his only complaint being that the beautiful weather drove away the "misty Scottish mood," so he chose to set aside that symphony for the time being.
It was typical of Mendelssohn to work out a sketch at great speed; but it was equally typical of him to exercise acute self criticism in polishing the score before declaring it finished. This happened with most of the works he wrote or drafted in Italy: plans and drafts went quickly, but completion was delayed.
None of the pieces that he had so boldly predicted would be finished before he left Italy yet met his standards. And although he did in fact complete the work the following year, he kept claiming to find flaws in it serious enough to demand extensive revision. His doubts are hard to credit today, since the Italian Symphony has long been regarded as one of his most perfect works, but whatever faults—real or imagined—meant that it only appeared (except for a single performance in London) after his premature death. The "Opus 90" of the Italian Symphony gives a misleadingly false impression as a late work, whereas it is actually one of the most brilliant early orchestral scores of this incredibly precocious artist.
The richly assured orchestration makes its mark in the opening measures with a background of repeated chords in the woodwinds over which the violins sing their enthusiastic, soaring theme. The sonority of the first measure alone is enough to identify this score out of the entire symphonic repertory. The racing activity never stops or slows, even when the strings become the lightest staccato whisper to bring in the clarinets and bassoons with the secondary theme. But shortly before the end of the exposition the activity slows to allow the solo clarinet one superbly romantic moment, whispering the opening theme in notes twice as long as before. As is usually the case with sonata form first movements, Mendelssohn puts a repeat sign at the end of the exposition; in this case, though, the repeat is not simply conventional; it is absolutely essential, since the first ending contains a new idea in the oboe and then in the strings—a soaring upward that settles gracefully down to the cadence—which will play an important part in the coda. Much of the development is based on another new idea treated imitatively in the strings with punctuation from the woodwinds until the latter assert the importance of the main theme on top of everything. The new theme is recapitulated in place of the romantic moment for the clarinet from the exposition, and the coda works all of the preceding ideas in with the concluding material from the first ending in a wonderfully imaginative web.
Mendelssohn wrote to his sister Fanny that he would look for inspiration for the second movement in Naples. It may suggest a religious procession through the streets (although such a procession need not have been limited to Naples). The opening figure, a "wailing" gesture, introduces a measured and rather somber marching theme in D minor.
The third movement is the embodiment of grace, with a light but poetic touch in the horn calls deftly answered by violin and flute scales in the Trio.
The saltarello of the finale is a whirlwind of rushing activity, from the orchestral trills and punctuating chords of the first measure through the unison statement of the basic rhythm at the end. The biggest surprise, perhaps, is that Mendelssohn begins in the minor mode and, contrary to all expectation, refuses to yield, even in the very last measures, to a conclusion in the major. But the energy and the brilliant orchestration of the whole, the unflagging verve and ceaseless activity, bring on a conclusion that, for all its surprises, is as fully gratifying as any that Mendelssohn ever wrote.
The Italian Symphony is the product of a very young man—of twenty two to twenty four years. Not so young, certainly, as the composer of the Octet or the overture to A Midsummer Night's Dream, but still a man in the first flush of his mature powers. And, though Mendelssohn can hardly be said to have ever been an old man, it is unlikely that the intended later revisions, if he had ever gotten around to them as he hoped, could have had any effect but to vitiate the overwhelming sense of youth that we find in this score.
© Steven Ledbetter
ASTOR PIAZZOLLA (1921-1992)
Tango Suite
Born in Mar del Plata, Argentina Piazzolla immigrated to New York with his family, where he grew up on the Lower East Side. Sports and other activities interested him far more than did the tango, the music of his father. The gift of a folk instrument, the bandoneón began to change that, however.
In characteristic fashion, the first music that Piazzolla played seriously on the bandoneón was Bach, which he learned from the Hungarian pianist Bela Wild. Whatever his early reservations, however, Piazzolla eventually took to the instrument and the tango repertory. He was 16 years old when his family returned to Argentina, and he was soon working regularly in the best tango orchestras, including that of Aníbal Troilo. In 1944 Piazzolla left the Troilo band to form his own ensemble, the Orquesta del 46, to play his own compositions. At that time he also was studying composition with Ginastera. A symphony he composed in 1954 for the Buenos Aires Philharmonic earned him a scholarship to study in Paris with Nadia Boulanger, who advised him to cultivate the tango as his true mode of expression.
Piazzolla's tango revolution was very much a reflection of its time and place – the political, economic, and cultural turmoil and ferment of Argentina in the second half of the 20th century. Yet even at the time it proved readily transferable, appealing to hearts and minds, ears and feet, around the world, and it continues to cast a long and inspiring shadow across poly-cultural musicians and audiences today.
From the 1960s comes a series of Angel pieces. These pieces were written as part of "Series del Angel" for an intended stage play "Tango del Angel" in which an angel heals the spirits of an impoverished area of Buenos Aires. Each movement reflects the title and is deeply emotionally charged. Written in the 1960's these pieces shook the conservative world of tango.