Program Notes: Classics I – Oct. 2021
Keila Wakao, violin 
15 year old violinist Keila Wakao was recently awarded the 1st prize and the Junior Composer Award for her performance of Mason Bates' Bound Away in the Menuhin International Violin Competition in Richmond, VA. She was also the 1st prize winner of the Stulburg International String Competition and was awarded the Bach prize in 2021.
Keila was born in Boston, MA and began playing the violin at the age of three. The late Mr. Joseph Silverstein accepted Keila as a student when she was six years old. A student of Donald Weilerstein and Soovin Kim from New England Conservatory, she has won numerous competitions since the age of seven, including the New England Philharmonic Young Artist Competition and the Junior Division of the Adelphi Orchestra Young Artist Competition as well as second place over all age groups. Keila gave her first solo performance with an orchestra at nine years old. Since then, she has performed solos and recitals throughout Massachusetts, New York, New Jersey, Japan and Germany. In 2017, Keila was invited to speak and perform at TEDx BeaconStreet. Since she was 12 years old, she has been participating in the Perlman Music Program every summer and now attends Walnut Hill School in Natick.
SAMUEL BARBER 
Adagio for String Orchestra, Opus 11A
Samuel Barber was born in West Chester, Pennsylvania, on March 9, 1910, and died in New York on January 23, 1981. He composed the Adagio originally as part of his String Quartet, Opus 11, in 1936-37. Barber took the slow movement of the quartet as a separate piece for string orchestra. It became famous overnight when Toscanini conducted it on his nationwide radio broadcast on November 5, 1938. Duration is about 8 minutes.
Samuel Barber grew up in a musical family (his aunt was the great contralto Louise Homer, whose husband, Sidney Homer, was a composer), and he began play the piano at six and compose the following year. Still, it was with some trepidation that he left a note on his mother's dresser when he was about eight to tell her of his self-realization: "To begin with, I was not meant to be an athelet [sic] I was meant to be a composer. and I will be, I'm sure…Don't ask me to try to forget this…and go play foot-ball." It was Sam's uncle Sidney who encouraged his composition most with letters full of advice, and by the time the boy was seventeen, his famous aunt had begun including some of his early songs at her recital programs.
Barber's musical technique was formally developed during the eight years he spent as a student at the Curtis Institute in Philadelphia, where he joined its first class in 1924 (when he was just fourteen). There he studied piano, composition (with Rosario Scalero), conducting (with Fritz Reiner), and voice. For a time he contemplated the idea of a career as a professional singer, but it was primarily as a composer that he developed during his Curtis years.
Barber's style was always conservative, emphasizing the long lyrical line and relatively traditional tonal harmonies. His setting of language was felicitous, and his ear for color acute. All of these strengths made him for many years one of the most popular of American composers. Though by the time of his death he felt himself to be an outsider in the musical world, his music has been heard more frequently in recent years and appreciated for its craft and expressive directness.
From early on Barber won awards; at first these took him to study in Europe, especially Italy, where he not only composed a great deal of music but made useful connections. In July 1937 Artur Rodzinski conducted Barber's First Symphony at the Salzburg Festival, the first American music ever to be performed in that bastion of European culture. At the time, Arturo Toscanini was planning his programs for the following year and looking for an American work to include. Rodzinski suggested Barber, and when Toscanini expressed an interest in seeing a short piece, Barber quickly composed his Essay for Orchestra and made an arrangement for orchestral strings of the Adagio from his String Quartet. He sent the works to Toscanini but heard nothing. Eventually the conductor sent back the scores with no message from the conductor. 
When Barber's classmate GianCarlo Menotti visited Toscanini at Lago Maggiore that summer, Barber refused to go with him. Toscanini understood the reason for the young composer's absence: "He's just angry with me, but he has no reason to be — I'm going to do both of his pieces." The performances on November 5, 1938, were widely heard and remarked, partly because Toscanini had a reputation for musical conservatism and for a lack of interest in American music. The fact that he played two works by an American composer on the same program brought Barber's name and music before the public more effectively than almost anything else could have done.
Of course, it was the quality of the music that held the public attention. The haunting serenity of the Adagio, in particular, has retained its hold unbroken. The Adagio for strings is one of those extraordinary works that feels never to have been created but always to have existed just out of hearing. Its shape is a nearly seamless arch from infinite quiet sadness to great intensity and back to silence.
FRANZ JOSEPH HAYDN
Symphony No. 103 in E-flat, Drumroll
Franz Joseph Haydn was born in Rohrau, Lower Austria, on March 31 or April 1, 1732, and died in Vienna on May 31, 1809. He composed the "Drumroll" symphony for his second London visit; it was premiered there on March 2, 1795. The score calls for pairs of flutes, oboes, clarinets, bassoons, horns, and trumpets, plus timpani and strings. Duration is about 27 minutes.
One morning in 1790, a visitor appeared at Haydn's home and announced "I am Salomon from London and have come to fetch you." Salomon was a violinist and impresario who ran a concert series in London, then possibly the concert capital of Europe. He was on a recruiting tour of the continent when he heard that Haydn's long-time employer Prince Nikolaus Eszterhazy had died, thus presumably freeing Haydn from the necessity of remaining near Vienna. He quickly went to Vienna and made the great composer an offer that was hard to resist.
Haydn accepted; his two extended English visits (one starting in January 1791, the second ending in August 1795) brought him acclaim as the greatest living composer and a substantial measure of wealth.
Haydn's last twelve symphonies were composed for performance on his London visits; they have long been the most famous and best-loved of his voluminous output. As each was premiered, the reviewers expressed their continuing astonishment that Haydn had topped himself yet again, noting that his music was both "pleasing" and "scientific," terms that described the composer's unique accomplishment: writing music that is immediately accessible yet at the same time structurally significant with a fully refined technique. 
The "Drumroll" symphony was first performed in London on March 2, 1795. The reviewer for the Morning Chronicle noted that "it had continuous strokes of genius, both in air and harmony." The writer went on to say, "The Introduction excited the deepest attention." This was, no doubt, because of its surprising beginning: an unaccompanied roll on the timpani, and this at a time when percussion was used almost solely for reinforcement, not as a sound color in its own right. (Haydn did not, by the way, mark a dynamic for this drumroll, and many conductors have preferred to offer it as a mysteriously distant sound; but Haydn did mark it "Solo" and "Intrada" ["entrée," as marking the arrival of a significant character onstage in the theater], which suggests a rather more assertive beginning.) The tune that follows in the slow introduction is unharmonized for its first four measures; to the listener hearing the symphony for the first time, it could prefigure a piece in E- flat major or in C minor. This ambivalence is happily resolved at the cheerful beginning of the 6/8 Allegro, though Haydn dramatically recalls it just before the recapitulation—an original gesture that must have astonished his first audience.
The second movement is a double set of variations on two related themes, one in C minor, the other in C major, which continues, in a slightly different manner, the first movement's discussion of major vs. minor. Haydn himself seems to have altered both melodies (which may have been folk tunes) by adding the F-sharp that so strikingly characterizes them and makes them still more closely related. This movement was so much liked at the premiere that the audience demanded on encore.
In different ways the minuet and trio suggest folk dances, though it is folk dance converted to high art, with unusually wide-ranging harmonies in a short space. The minuet proper is marked by a crisp "Scotch snap" rhythm, but the trio is full of relaxed rustic charm.
The finale is one of Haydn's greatest achievements, seemingly direct and simple, built on a horn call figure over which a folk-like tune appears. But Haydn's simplest ideas lead to the most extraordinary consequences, witty shifts of rhythm, cheerful banter, surprising harmonic developments, finally closing in a blaze of glory. 
JOHN WILLIAMS (b. 1932)
Theme from Schindler's List
Even when the movies were "silent," they had sound–the sound of live musical performance, whether played by an orchestra (in the largest metropolitan centers), by a theater organ elaborately equipped with extra sound effects, or (in small towns) by a lone pianist.  The role of the composer was crucial in setting the mood of the film, whether he simply arranged familiar tunes (as in the elaborate patchwork of quotations assembled by J. C. Breil for D. W. Griffiths' Birth of a Nation in 1914) or a created something completely original, such as Victor Herbert's remarkable 100-minute orchestral score for The Fall of a Nation in 1916.  The coming of the "talkies" allowed the music to be permanently wedded to the film.  While this development meant hardship and widespread unemployment among theater musicians, it made possible at last a reliable coordination of image and score. 
The list of important twentieth-century composers who have written for the films would fill several columns, but even a brief summary would have to include Prokofiev, Shostakovich, Milhaud, Honegger, Walton, Vaughan Williams, Aaron Copland, and Virgil Thomson.  A number of composers became so thoroughly involved with films that they are primarily identified as film composers, though many of them–Erich Wolfgang Korngold, Miklos Rozsa, Franz Waxman, Bernard Herrmann, and John Williams, for example–have also written many concert works. 
The composer of a film score must add to his training in music theory, composition, and orchestration a sense of dramatic timing and color, an awareness of many musical styles, and an ability to choose the most appropriate and expressive treatment for a given situation, whether it be light romantic comedy, taut adventure , or some other type of story. Few films of recent years have had such a profound impact on millions of viewers all over the world as Steven Spielberg's 1993 Schindler's List, based on Thomas Kenneally's nonfiction novel of the same name, recounting the extraordinary true story of an unlikely hero, a rascally and hitherto self-serving German, Oscar Schindler, who was put in charge of war production at a factory in Poland, where most of his workers were enforced Jewish laborers—a prime position in which he could have enriched himself through war-profiteering at the expense of his human slaves. But Schindler instead spent most of the fortune he might have made in saving lives, quietly, secretly, and cleverly, with amazing coolness and resource, always far enough ahead of the Gestapo to seem above suspicion, though any false step would have meant his death and that of the hundreds of people whom he was able to protect. 
The story itself is filled with some of the ugliest and most brutal acts in the history of humanity, but John Williams's score, composed at Tanglewood in the summer of 1993, functioned as a cathartic element of the film, emphasizing for the most part the tragic poignancy of the breaking up of so many families, their imprisonment and, in so many millions of cases, their horrendous deaths. The solo violin is the principal voice in the score, one that brings an immediate link to the Jewish culture that is under attack; this violin keens its sad song with a sense of the profound tragedy of life, through which, nonetheless, love and faith persist.
CARLOS GARDEL (1890-1935), arr. JOHN WILLIAMS
Tango, Por una cabeza 
Carlos Gardel was an extraordinarily creator and performer of tangos, a dance form that was sexually suggestive in its movements that attempts were made by representatives of the Church to ban it—but that action essentially promoted its increased popularity. Gardel was a rather mysterious character with a secret background (he was born in Toulouse, France, as Charles Romuald Gardès, but in adulthood he gained both Argentine and Uruguayan citizenship and changed his name to the form that made him famous. He maintained a mystery about his romantic life (to increase his popularity with female fans). He wrote more than two dozen tangos, of which Por una cabeza was one of the last compositions, written in 1935, the year in which he died in a plane crash at the height of his popularity.
The tango was used in the 1992 film Scent of a Woman, for which John Williams made the present arrangement featuring a solo violin with orchestra.
PABLO DE SARASATE (1844-1908)
Concert Fantasy on Carmen, Opus 25 
Pablo de Sarasate was born in Pamplona, Spain, on March 10, 1844, and died in Biarritz on September 20, 1908. He composed the Carmen Fantasy in the early 1880s. Duration is about 12 minutes.
Pablo de Sarasate was one of the greatest violinists of the 19th century, a musician who received the dedications of an astonishing number of virtuoso showpieces, many of which still remain in the repertory—among them Bruch's Second Concerto and Scottish Fantasy, Saint-Saëns's First and Third Concertos and the Introduction and Rondo Capriccioso, Lalo's Symphonie espagnole, Joachim's Variations for violin and orchestra, and Wieniawski's Second Concerto. Fans of the Sherlock Holmes stories will remember that the great detective, a competent violinist himself, sometimes took an evening off from the pursuit of criminals to refresh himself at a Sarasate recital. Nine existing recordings of his playing made in 1904 reveal a sweet purity of tone, technically perfect, though not a powerful sound and not one given to much dynamic shading.
Though not himself a great composer of original material, Sarasate could rework other compositions (such as Bizet's Carmen or a collection of gypsy melodies) into an effective concert piece displaying his extraordinary technique. The opera Carmen was premiered in the spring of 1875, only a few weeks before Bizet's tragically early death, at the age of thirty-eight. At the time , it may have seemed that his life's work would quickly be forgotten, but within a year or two Carmen was on the verge of becoming one of the world's most popular operas, a distinction it has never lost. When an opera becomes that famous, its principal arias become known to an audience far larger than one that frequents the opera house. The tunes of Carmen probably interested Sarasate in particular because the opera's setting in Spain, and the Spanish tinge to the music, evoked his own background. At all events the Spanish composer assembled the best-known melodies from the opera in a way that reveals a canny awareness of overall musical effect. Sarasate's ability to show off the soloist in various guises through the changes of mood and tempo resulted in a virtuoso showpiece that remains indispensable. 
© Steven Ledbetter
Recipient of the Judith and Allen Weltz Award for Community Service – 2020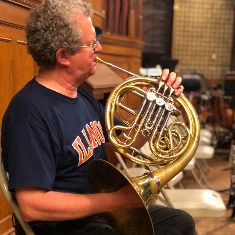 New Phil recently awarded french horn player Bob Moffett its Judith and Allen Weltz award for community service.  Intended to be presented at the orchestra's March concert it was awarded on Zoom, for the moment, at a gathering of orchestra players and leaders.  This award has been given from time to time over the years to honor the service to our cultural community as exemplified by the 30 years of devoted work and service of Judy and Allen Weltz, dedicated New Phil founders and supporters of the orchestra.
Born in Arkansas to a non-musical family, Bob spent most of his formative years in Wichita, Kansas where his father worked as an engineer for Boeing. Thanks to a strong public school music program presence and later, a vibrant Youth Symphony program that attracts and trains young musicians statewide to this day, Bob was first introduced to the horn in fourth grade. It was love at first sight for the horn, having no idea what kind of sound it made. A compromise was struck to begin on trumpet and transition to horn two years later. Unlike the experiences of young Beethoven, Bob's parents would beg and plead for the practicing to cease in order to hear their favorite TV programs. His love of playing loud and high (at the appropriate opportunity) may have not originated from the purest of motives. Bob transitioned to horn in 6th grade and never looked back, taking part in Wichita's Youth Symphony program and various All State Orchestras. Bob became a member of the Wichita Symphony Orchestra at age 18 where he continued to play professionally for the next 5 years while pursuing concurrent undergrad degrees in French horn performance and Electrical Engineering at Wichita State University. Marrying his horn playing high school sweetheart, Jerrie, one week after graduation, they departed for a honeymoon in Vienna, Austria, along with the entire Wichita State Orchestra, as the orchestra in residence for a month-long conducting master class led by Hans Swarowsky at the Vienna Conservatory.
Upon return, Bob began a job designing military radars for Texas Instruments by day and taking lessons from Dallas Symphony members by night. Two years later, he quit his job at TI to begin master's level horn performance studies at NEC. With all requirements met save the recital, it became painfully apparent that unresolved performance anxiety issues would derail possibilities for a successful professional career in music performance. His parting jury remarks declared it would be a long, hard road to succeed. Ironically, in retrospect, Bob spent the next twenty years attempting to refute the parting epithet, while raising a family and designing computer motherboards for CSPI, Sun Microsystems, and Oracle.
Good fortune struck when then BSO principal horn and nuclear physicist Charles Kavalovski agreed to take Bob on as a private student. Having instilled the seeds of confidence to succeed in music over the course of 5 years of study, Bob ultimately decided to remain as an amateur given the richness of musical opportunities in the Boston area and the surety of a steady livelihood from employment in the high tech sector. After prior involvement with numerous other Boston area community orchestras, Bob settled on the New Philharmonia Orchestra during its inaugural season. Now after 25 seasons, Bob looks back with nothing but thankfulness for the multitude of musical opportunities provided by his NPO family, making his journey over the long, hard road all the more gratifying. Bob and Jerrie reside in Milton, Massachusetts with two grown sons; Jeff, an aerospace engineer with giftings in flute and guitar, and Alex, a talented Blue grass musician, presently engaged in a post-doc position in the field of Bio-Physics.