Join us Sunday, March 27 at 3:00pm at Newton North High School for this musical travelogue, including a special tribute to the enduring spirit of the people of the Ukraine during this tragic time.  Purchase your tickets here to enjoy fantastic performances from our Classics III soloists.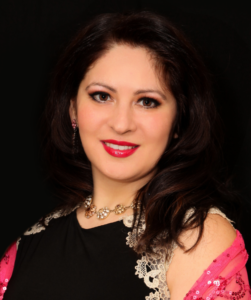 Olga Lisovskaya, soprano
A Newton resident, Olga Lisovskaya is a native of Kyiv, Ukraine.  She holds degrees from Middlebury College, École Normale de Musique d'A. Cortot in Paris, France and L'Institut des Sciences Politiques in Paris, France.  A critically acclaimed classical singer, Olga Lisovskaya's career involves both singing on prestigious concert stages, including Carnegie Hall and Jordan Hall, and producing successful projects with Talents of the World, an international concert organization. Olga produced award-winning opera productions at Commonwealth Lyric Theater, a Boston-based opera company, and Talents of the World's Annual Music Festival at Carnegie Hall.  As a performer, Ms. Lisovskaya's concerts have been featured on Ukrainian, Italian and American TV.  She is a director and judge of the prestigious Talents of the World Annual International Voice Competition. Olga is also a founder of a nonprofit organization, Music, Arts and Fashion Productions.  Being a passionate connector, Olga serves as Managing Partner at Sky International Center, a social, cultural and business network of 20,000 members in New England. Ms. Lisovskaya is a sought-after voice teacher. Olga's life purpose is to inspire positive change through connections for life, coaching and art performances. www.OlgaLisovskaya.com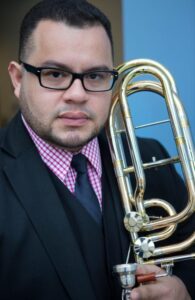 Angel Subero, trombone
Angel Subero is a Venezuelan trombonist who attended the Conservatorio Itinerante in Caracas, Venezuela, where he studied with the legendary Michel Becquet. After coming to the United States in 2001, he attended  Boston Conservatory, where he studied with Lawrence Isaacson, and New England Conservatory of Music, where he studied with Douglas Yeo. He also studied with John Rojak at the Aspen Music Festival.
Subero has performed with numerous orchestras, including the Boston Symphony Orchestra, Boston Pops Esplanade Orchestra, Boston Ballet, Pittsburgh Symphony, American Composers Orchestra, the Venezuela Symphony, Simon Bolivar Symphony, and the Boston Modern Orchestra Project, to name a few. He has worked with such conductors as John Williams, Seiji Ozawa, Kurt Masur, Sir Colin Davis, Christoph von Dohnanyi, Keith Lockhart, and Robert Spano, among many others.
In the realms of jazz, Latin and commercial music, Subero has appeared with artists such as Bob Brookmeyer, Aretha Franklin, Slide Hampton, Jim McNeely, Claudio Roditi, Danilo Perez, Chris Botti, and many more.