Meet Our Musicians: Brass Section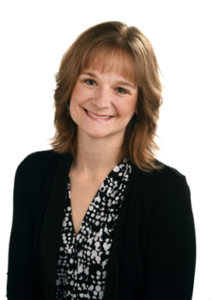 Angela Bahns: French Horn
From Lincoln, NE, Angela attended Pomona College for undergrad and University of Kansas for graduate school. She holds a B.A. in Psychology, M.A and PhD in Social Psychology, and works in Social Psychology in an academic faculty position. She joined New Phil in 2012. Angela and her husband Nick (biologist for Celldex Therapeutics) share daughter Clara and son Ethan who both love to sing. Outside of NPO you can find Angela hiking and playing with her kids. Fun fact: Angela was a dancer from 4 to 18 years old and did ballet, tap, jazz, and Irish step dancing! 
Sandra Fallon-Ludwig, French Horn
A member of New Phil since 2004, Sandra Fallon-Ludwig is originally from Sayville, New York. She has a B.A. from Providence College and an M.F.A. and Ph.D. in Musicology from Brandeis University, where she currently works as the Assistant Registrar. Sandra's husband Alex plays cello and piano and is an Assistant Professor at Berklee, and their son Lucas recently began piano lessons. In Sandra's free time you can find her coaching her son's soccer team, hiking at Callahan State Park with her family and their dog Sofi, or reading a good science fiction or fantasy book. Fun fact: Sandra is often working on a new knitting project!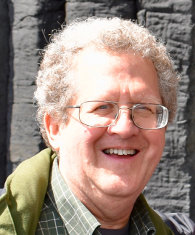 Robert Moffett: French Horn
Bob grew up in Wichita, KS and attended Wichita State University and New England Conservatory. He holds a B.M. in French Horn Performance and B.S.E.E. He worked in computer hardware design before retiring. Joined New Phil in 1995. Bob and his wife of 45 years, Jerrie, (first grade teacher) played horn together in high school! His son Jerry (aerospace engineer for Boeing) plays flute and piano and his other son, Alexander, (PhD in physics) plays violin, piano, mandolin, guitar, banjo, & dobro. Outside of New Phil you can find Bob practicing or "tinkering on various electronic/home projects".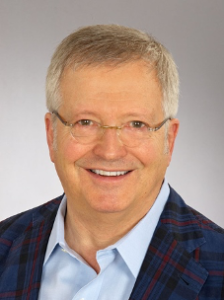 William Prince, French Horn 
A member of New Phil since 2016, William Prince is originally from Orpington, Kent U.K. (a suburb of London). He attended Cambridge University, holds a B.A., M.A., PhD., M.S., ChirB and FFPM and works in medicine at Novartis.  William's wife is an artist, and they have three children who play trumpet, piano, and guitar. When not at New Phil, William enjoys good food and cocktails, practicing, or going to the symphony, theatre or opera. Fun fact: while he was studying and practicing medicine in the UK, William was principal horn of the Academy of Ancient Music where he played natural horn, and was co-principal horn in the Bournemouth Symphony Orchestra. He also freelanced in London orchestras including English Chamber Orchestra, London Mozart Plays, Hanover Band, London Classical Plays and English Baroque Soloists!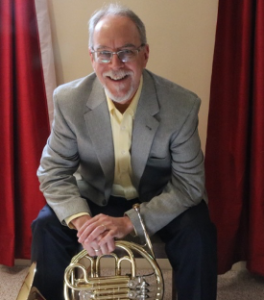 Erik Svenson, French Horn 
Erik Svenson is a recent addition to New Phil, joining the orchestra in 2019. He grew up in Brooklyn, NY and attended Oberlin College, earning a B.A. in Mathematics and Computer Science. Erik works in Computers/IT, and enjoys performing with NPO and the Mystic Brass Ensemble. Erik's wife Elisabeth sings with the Spectrum Singers and they share three musical children; all three sing and one plays piano. When he's not at New Phil you can find Erik out on his sailboat, Flicka. Fun fact: he has a third-degree black belt in Karate!
Allison Damon: Trumpet
From Portland, OR, Allison attended undergrad at Seattle Pacific University and master's at the Longy School of Music. She holds B.A. and M.M. in trumpet performance. She teaches trumpet, along with other brass instruments, and is a freelance trumpeter. She joined New Phil in 2019. Allison plays in the Charles River Brass Quintet, Downtown Boston Brass, is involved in various projects with composers bringing new works into existence, and also plays in an emo band she recently started with some friends. In her free time Allison loves going to art museums and yoga. At home she enjoys knitting, reading, and cooking/baking (she makes ~the best~ scones and brownies).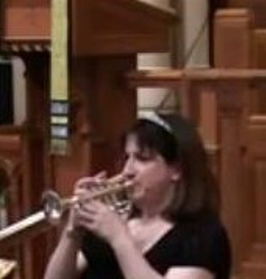 Karen Martin, Trumpet
A native of Weston, MA, Karen Martin attended Boston University where she earned a Bachelor of Music in Brass Performance. She can play any brass instrument, with the exception of the tuba, and also sings. Karen has worked as a professional musician, but her current profession is in clinical research. A New Phil member since 1998, she also plays in Mercury Orchestra and Bay Colony Brass. Karen's father is the owner of a 50 year old business in Waltham called Martin's Waltham Spring Company, and her brother is a talented artist who teaches guitar. When not in rehearsals/concerts, Karen can be found practicing, reading, bike riding, walking, or entertaining her Siberian cat. Fun fact: she began learning the violin a few years ago!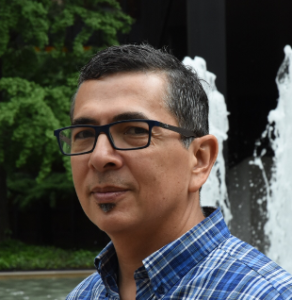 Paul Salinas: trombone
Paul grew up in Corpus Christi, TX. He attended MIT and holds a Bachelor of Life Sciences degree. He works as a scientist in Biopharmaceutical Industry. Paul joined New Phil in 1995 and also plays in the Longwood Symphony Orchestra. He also plays guitar and piano. When not at New Phil you can find Paul enjoying yoga and pottery. Fun fact: he's roped and branded cattle!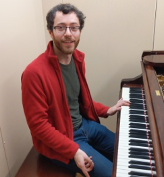 Mat Solomon, Trombone 
A native of Concord, MA, Mat Solomon attended Case Western Reserve University, holds a B.A. in Music and B.S. in Physics and works in Game Development, Music Composition and Sound Design. A member of New Phil since 2016, Mat plays trombone, piano, guitar and trumpet. He also plays in the Longwood Symphony Orchestra and previously played in the salsa band Orquesta Mia. Fun fact: when he's not playing or writing music, you can find Mat in the kitchen working on overly indulgent cooking projects!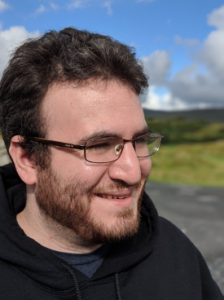 Matthew Leftin: Bass Trombone
Matthew hails from Needham, MA. He graduated from University of Delaware with a B.M in Music Education, and Lesley University with a Masters in Special Education. He works as a Middle School Band Teacher. Joined New Phil in 2013 and also plays in the Sharon Concert Band and the Roy Scott Big Band. In his free time you can find Matthew listening to podcasts, reading, (his favorite authors are Brandon Sanderson and Kurt Vonnegut), or gardening. Fun fact: he started the adventure of learning Spanish!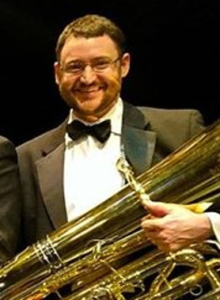 Timothy Ayer: Tuba
Timothy is from Connecticut and earned a Bachelor's in Tuba Performance from Duquesne University and a J.D. Temple Law School. He works as an attorney and joined New Phil in 2018. Timothy also plays Lute, bass guitar and guitar. Outside of New Phil you can find Timothy practicing, cooking, and baking. This year, he also began picking up acorns! Fun fact: "usually the tuba IS my fun fact…" !