New at New Phil!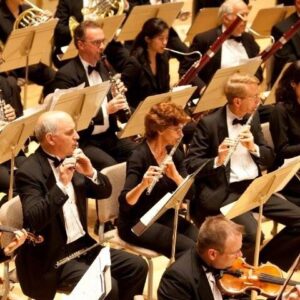 New Phil continues in a variety of ways.  Here's the latest:  Check out this Special Greeting from our Players!
And, click here to hear our woodwind principals perform the music of Ibert.
Click here to see our latest message from the musicians.
Learn about our musicians!  Click here to visit our newly update musicians page!
Help us reach our goal and continue our "Music for All" mission! Last Fall we launched the NPO 25/125 campaign – seeking to raise $125K during this special year.
While our music has been paused we continue to collaborate each day on how we can continue our mission.  Community music is ever important in these challenging times.  Music heals, as has been proven time and again!
For many of our musicians, our Mothers were a vital part of helping us explore and find our passion in music.  Perhaps this is true for you too!
Please consider making a gift today in honor or remembrance of your Mom.  Add your dedication and we'll share our Mother's Day honors on a special page of our website.
The great Symphony No. 9 of this great master, Ludwig van Beethoven, was to have culminated our celebratory 25th anniversary season on May 16 and 17.  Sadly this season's celebration had to be cut short.  Soon we will have online opportunities for you to enjoy and share in the music making of our soloists for this concert.  Please check back soon to find those links!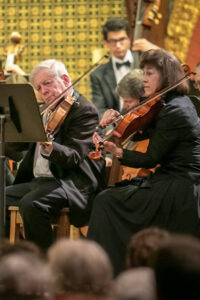 New Philharmonia is committed to a future of "Music for All," providing great concerts for the region – classical, family and pops!  As with all performing arts organizations, the timing of our precise trajectory is uncertain.  However, with the hope of being able to present live music in some manner during our 2020-21 season we will be announcing later this Spring, some dates and programs filled with hope.  We'll be sure to let you know, or come back to our website often to catch up on the latest.  In the meantime, please stay safe and well!
Here are some resources that will help you maintain a virtual connection with our community and share in our love of music and the arts.
Newton Cultural Alliance
Newton Cultural Development Resources
Boston Symphony Orchestra – Encores
Yo-Yo Ma's Songs of Comfort
Boston Music Maker COVID-19 Fund
MUSIC FOR ALL
Music for All – as noted in the Boston Globe in 1998 – the orchestra's mission is to bring great music to the suburbs,
and to make it not only for the people but of the people and by the people.
The orchestra advances its mission by presenting programs of diverse repertoire of classical and light classical music for the enjoyment of audiences of all ages and experiences from a variety of urban and suburban communities. At the same time the orchestra strives to provide its non-professional players the opportunity to achieve a high level of ensemble performance not otherwise available.