Udates on the Coronavirus
As Governor Baker has declared a State of Emergency to respond to COVID-19 (coronavirus) on March 10 and New Philharmonia takes the health and well-being of its players, audience, and the community at large very seriously, we regret to announce that we have postponed our March 14/15 performances of the wonderful St. Petersburg Virtuosos program until late spring or early fall. Date TBD. We will be contacting all of our ticket buyers shortly and hope that our New Phil extended family will stay healthy and join us again soon. Given the changing nature of the response to the coronavirus, stay safe and watch for updates from the governor and Newton's Health & Human Services department. If you have questions and/or concerns regarding the postponing of the March 14/15 performances, please feel free to contact our Executive Director adrienneh@newphil.org or give the office a call; 617-527-9717.  We will do our very best to respond in a timely manner.  Thank you.
Recipient of the Judith and Allen Weltz Award for Community Service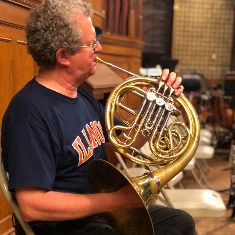 New Phil recently awarded french horn player Bob Moffett its Judith and Allen Weltz award for community service.  Intended to be presented at the orchestra's March concert it was awarded on Zoom, for the moment, at a gathering of orchestra players and leaders.  This award has been given from time to time over the years to honor the service to our cultural community as exemplified by the 30 years of devoted work and service of Judy and Allen Weltz, dedicated New Phil founders and supporters of the orchestra.
Born in Arkansas to a non-musical family, Bob spent most of his formative years in Wichita, Kansas where his father worked as an engineer for Boeing. Thanks to a strong public school music program presence and later, a vibrant Youth Symphony program that attracts and trains young musicians statewide to this day, Bob was first introduced to the horn in fourth grade. It was love at first sight for the horn, having no idea what kind of sound it made. A compromise was struck to begin on trumpet and transition to horn two years later. Unlike the experiences of young Beethoven, Bob's parents would beg and plead for the practicing to cease in order to hear their favorite TV programs. His love of playing loud and high (at the appropriate opportunity) may have not originated from the purest of motives. Bob transitioned to horn in 6th grade and never looked back, taking part in Wichita's Youth Symphony program and various All State Orchestras. Bob became a member of the Wichita Symphony Orchestra at age 18 where he continued to play professionally for the next 5 years while pursuing concurrent undergrad degrees in French horn performance and Electrical Engineering at Wichita State University. Marrying his horn playing high school sweetheart, Jerrie, one week after graduation, they departed for a honeymoon in Vienna, Austria, along with the entire Wichita State Orchestra, as the orchestra in residence for a month-long conducting master class led by Hans Swarowsky at the Vienna Conservatory.

Upon return, Bob began a job designing military radars for Texas Instruments by day and taking lessons from Dallas Symphony members by night. Two years later, he quit his job at TI to begin master's level horn performance studies at NEC. With all requirements met save the recital, it became painfully apparent that unresolved performance anxiety issues would derail possibilities for a successful professional career in music performance. His parting jury remarks declared it would be a long, hard road to succeed. Ironically, in retrospect, Bob spent the next twenty years attempting to refute the parting epithet, while raising a family and designing computer motherboards for CSPI, Sun Microsystems, and Oracle.

Good fortune struck when then BSO principal horn and nuclear physicist Charles Kavalovski agreed to take Bob on as a private student. Having instilled the seeds of confidence to succeed in music over the course of 5 years of study, Bob ultimately decided to remain as an amateur given the richness of musical opportunities in the Boston area and the surety of a steady livelihood from employment in the high tech sector. After prior involvement with numerous other Boston area community orchestras, Bob settled on the New Philharmonia Orchestra during its inaugural season. Now after 25 seasons, Bob looks back with nothing but thankfulness for the multitude of musical opportunities provided by his NPO family, making his journey over the long, hard road all the more gratifying. Bob and Jerrie reside in Milton, Massachusetts with two grown sons; Jeff, an aerospace engineer with giftings in flute and guitar, and Alex, a talented Blue grass musician, presently engaged in a post-doc position in the field of Bio-Physics.
Program Notes: Classics II - March 2020 POSTPONED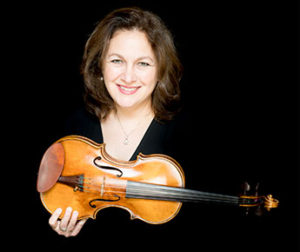 Tatiana Dimitriades, violin 
A member of the Boston Symphony orchestra since 1987, violinist Tatiana Dimitriades is active as a soloist and chamber musician. Highlights of her solo performances include appearances at Carnegie Hall with the Senior Concert Orchestra, at the Grand Teton Festival playing the Mendelssohn Concerto, and at Weill Hall, under the sponsorship of the Associated Music Teachers of New York. She earned her Bachelor's and Master's degrees and an Artist Diploma from the Indiana University School of Music, where she was awarded the Performer's Certificate in recognition of outstanding musical performance. A recipient of the Lili Boulanger Memorial Award, Mrs. Dimitriades has also won the Guido Chigi Saracini Prize presented by the Academia Musicale Chigiana of Sienna, Italy, on the occasion of the Paganini Centenary, and the Mischa Pelz Prize of National Young Musicians Foundation's Debut Competition in Los Angeles. She is a member of the Boston Artists Ensemble, and a founding member of the Walden Chamber Players.
Program Notes: Classics I - Nov 2019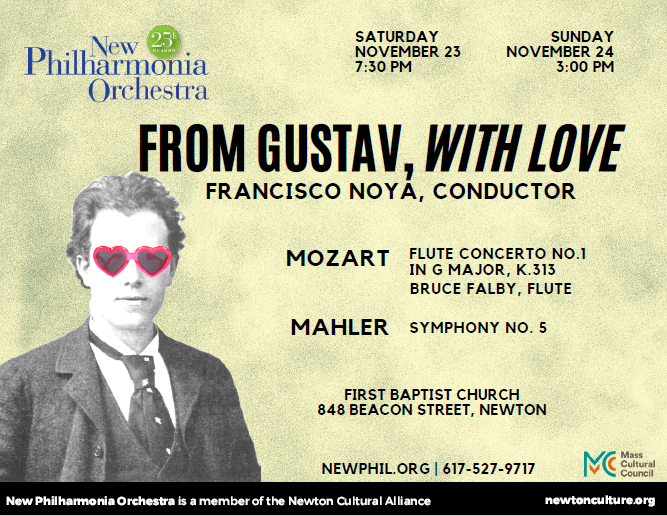 WOLFGANG AMADÈ MOZART
Flute Concerto No. 1 in G major, K. 313 (285c)
Wolfgang Amadè Mozart was born in Salzburg, Austria, on January 27, 1756, and died in Vienna on December 5, 1791. He composed his two flute concertos in Mannheim in early 1778 on commission from a Dutch merchant who played the flute; the dates of first performances are not known. In addition to the solo flute, the score calls for two oboes, two horns, and strings. 
Mozart spent the entire winter of 1777-1778 in the vigorously musical city of Mannheim, renowned for its orchestra comprising many of the best players in all of Europe ("an orchestra of generals," it was called). Mozart was traveling with his mother (Papa Leopold had not been able to get a leave from his job in Salzburg to come along), and the end goal of the journey was Paris, where Wolfgang hoped (or Leopold hoped for him!) to find wealthy patrons eager to pay him for compositions and audiences just as eager to hear him play as they had earlier when he had visited as a genuine prodigy. But Wolfgang dawdled in Mannheim. There he was enjoying himself in more ways than just musical. He fell in love with an opera singer named Aloysia Weber and went so far as to write his father with the suggestion that they should marry and go to Italy, where Wolfgang would manage her career as a singer. This, of course, was not at all what Leopold had in mind for his son. He kept urging him to get on to Paris. 
This context is important for understanding Wolfgang's letters to his father at this time. It must be remembered that he was doing his best to defy paternal authority, though he was not prepared break off with his father entirely. Still, every letter he wrote was carefully slanted to explain his interests in the light that he deemed most favorable to his desires. One of Mozart's new acquaintances in Mannheim was a wealthy Dutch merchant who played the flute. Mozart called him "DeJean" in his letters, but he didn't speak Dutch (whereas he did speak French), and the spelling is almost certainly his phonetic transcription of DeJong. In December 1777, Mozart wrote to his father, DeJong would pay him 200 florins for composing "three little, easy short concertos." A composer of Mozart's extraordinary facility should have been able to dash off a commission like that in a matter of a few weeks at most. But three months later he was writing to his father, making excuses for not having finished the commission (despite the fact that the 200 florins would have been a most welcome addition to his exchequer). 
Here I do not have one hour of peace. I can only compose at night, and so cannot get up early. Besides, one is not disposed to work at all times. I could certainly scribble the whole day, but a piece of music goes out into the world, and, after all, I don't want to feel ashamed for my name to be on it. And, as you know, I am quite inhibited when I have to compose for an instrument which I cannot endure.

 This letter has caused some writers to assert that Mozart really disliked the flute—this despite the evidence of brilliantly conceived parts for the instrument in many of his scores—not to mention the beauty of the concerto that he actually composed at this time! But taken in context, it appears far more likely that the letter is a carefully crafted series of excuses, based partly on truth, perhaps, but stretched as far as the writer dared, to explain to Papa why on earth he had not finished the commission and left for Paris. Mozart was not about to explain that he was spending precious time courting Aloysia Weber! 
In the end, he composed one concerto (K.313) and adopted the subterfuge of rewriting and earlier work—an oboe concerto—as a second score for flute (K.314), but he never did complete the full commission—and DeJong paid him a lower fee accordingly. 
The first flute concerto shows a new richness of orchestral scoring compared to the series of violin concertos Mozart had completed in Salzburg shortly before. He exploits the agility of the solo instrument beautifully but without losing sight of the necessary balance between soloist and orchestra. 
The first movement is filled with examples of Mozart's exuberant melodic invention. The heading Allegro maestoso is quite unusual at this time, and suggests a movement of rather more dignity and power than one expects. There is a wide ranging tonal imagination at work here, with a striking passage in D minor in the exposition introduced by a vigorous scale passage that plays an important role in the development. 
The Adagio is a movement of extraordinary beauty, the sinuous lines of the solo weaving a magical web in its interplay with the orchestra. 
The minuet tempo of the final rondo suggests grace rather than athletic abandon or sparkling humor, though Mozart has one surprise in store right at the end: just as the opening ritornello returns for the last time, hinting at a thoroughly orthodox conclusion, the solo takes off with one last unexpected passage to attract the spotlight in a final arresting moment. 
GUSTAV MAHLER
Symphony No. 5
Gustav Mahler was born in Kalischt (Kalište) near the Moravian border of Bohemia on July 7, 1860, and died in Vienna on May 18, 1911. He began writing his Fifth Symphony in 1901 and completed it the following year. He himself conducted the premiere in Cologne on October 18, 1904. The score calls for four flutes, two piccolos, three oboes and English horn, three clarinets, D clarinet, and bass clarinet, three bassoons and contrabassoon, six horns, four trumpets, three trombones and tuba, timpani, snare drum, bass drum, cymbals, triangle, tamtam, slapstick, glockenspiel, harp, and strings. Duration is about 68 minutes.
Mahler's first four symphonies, all written in the nineteenth century, are all inspired by or based on songs, especially the songs of the collection of folkpoetry known as Des Knaben Wunderhorn (The Youth's Magic Horn). By the turn of the century, Mahler had stopped drawing upon that source for good, though with one last glimpse in the finale of the Fifth Symphony. His next songs were settings of the poet Rückert, including his finest cycle, Kindertotenlieder, which he had started before he began work on the symphony. The Fifth is the first purely orchestral symphony since No. 1, with no vocal parts and no hint of musical shapes dictated by song.
The group of three instrumental symphonies—Nos. 5, 6, and 7—reveal Mahler's growing interest in the independence of the instrumental lines, in a highly contrapuntal texture. He more frequently uses small subsections of the orchestra, as if the entire ensemble consisted of an immensely varied series of chamber groups. The Fifth was written under the specific influence of Beethoven's late quartets, which Mahler described to a friend as "far more polyphonic than his symphonies," and of the intricate tonal counterpoint of J.S. Bach, whose work he studied for hours on end.
Mahler drafted the first two movements during the summer of 1901 at his newly-built retreat in the Carinthian resort town of Maiernigg. The remainder had to wait, because the opera season was starting, and his duties in Vienna left him little time to compose during the winter. But when he got back to the symphony the following summer, he was a different man. At a dinner party on November 7 he met a young woman of spectacular beauty and considerable selfassurance, Alma Schindler, a composition student. Within three weeks Mahler was talking of marriage and almost against her will Alma was realizing that "He's the only man who can give meaning to my life, for he far surpasses all the men I've ever met." By December 9, Alma had accepted him. When they married on March 9, Alma was already pregnant. 
It was only the least of the complications in their life together. In some respects two people can hardly have been less well suited to each other, whether by age, temperament, character, or interests. Mahler was passionately in love with her, but overbearing in his demands that she entirely devote her attention to him, even to the point of giving up composition. Alma was capricious, flirtatious, and conceited, though also very intelligent and witty, musical, capable of great generosity and petty meanness. Yet virtually everything Mahler wrote for the rest of his life was composed for her. Indeed, the famous Adagietto movement was his confession of love, according to the conductor Willem Mengelberg, who insisted that both of them told him this was so.
The symphony is laid out in five movements, though Mahler grouped the first two and the last two together, so that there are, in all, three "parts" tracing a progression from tragedy to an exuberant display of contrapuntal mastery and a harmonic progression from the opening Csharp minor to D major. The opening movement has the character of a funeral march, rather martial in character, with a trumpet fanfare and a drumlike tattoo of the strings and winds at the outset. The Trio is a wild, almost hysterical outcry in Bflat minor gradually returning to the tempo and the rhythmic tattoo of the opening. The basic march returns and ends with a recollection of the first song from Kindertotenlieder, which Mahler was almost certainly composing at the same time. The second trio, in A minor, is more subdued and given largely to the strings. Last echoes of the trumpet fanfare bring the movement to an end.
The second movement, "Stormy, with the utmost vehemence," takes the frenetic outbursts of the first movement as its basic character and contrasts them with a sorrowful march melody in the cellos and clarinets. They alternate three times. A premature shout of triumph is cut off, and the main material returns. The shout of triumph comes back briefly as a chorale in D (the key that will ultimately prevail), but for now, the movement ends in hushed mystery.
Mahler told Natalie BauerLechner that the scherzo was to represent "a human being in the full light of day, in the prime of his life." Cast on a large scale, it nonetheless moves with great energy, often as a lilting and whirling waltz with a featured solo horn, and sometimes by turns sardonic, boisterous, even brutal.
The last part begins with the famous Adagietto, once almost the only movement of Mahler's music that was heard with any frequency. When Mahler wrote it, he was recalling the musical worlds created for the second song of Kindertotenlieder and Ich bin der Welt abhanden gekommen, though he does not use either song to shape this exquisitely restrained movement. The melody grows in sweeping arches to a climactic peak that is not hammered with fortissimos but whispered as if with bated breath.
Mahler builds his finale as a grand rondo in which, after an opening horn call, a bassoon quotes a phrase from one of Mahler's Wunderhorn songs, Lob des hohen Verstandes, which describes a singing contest the outcome of which is controlled by a donkey. Good natured satire of academic pedantry is the point of the song, and Mahler here undertakes his own cheerful demonstration of counterpoint, the academic subject par excellence in music theory, treated in a wonderfully exuberant and freewheeling way. He is concerned to build up a symphonic structure, alluding to the theme of the Adagietto with music of very different spirit. The climax of the symphony brings back the chorale theme from the second movement, the one earlier passage in all that tragic realm that hinted at the extroversion of D major, now finally achieved and celebrated with tremendous zest.
© Steven Ledbetter  (www.stevenledbetter.com)