Program Notes: Classics III – March 2022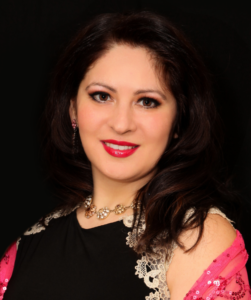 Olga Lisovskaya, soprano
A Newton resident, Olga Lisovskaya is a native of Kyiv, Ukraine. She holds degrees from Middlebury College, École Normale de Musique d'A. Cortot in Paris, France and L'Institut des Sciences Politiques in Paris, France. A critically acclaimed classical singer, Olga Lisovskaya's career involves both singing on prestigious concert stages, including Carnegie Hall and Jordan Hall, and producing successful projects with Talents of the World, an international concert organization. Olga produced award-winning opera productions at Commonwealth Lyric Theater, a Boston-based opera company, and Talents of the World's Annual Music Festival at Carnegie Hall. As a performer, Ms. Lisovskaya's concerts have been featured on Ukrainian, Italian and American TV. She is a director and judge of the prestigious Talents of the World Annual International Voice Competition. Olga is also a founder of a nonprofit organization, Music, Arts and Fashion Productions. Being a passionate connector, Olga serves as Managing Partner at Sky International Center, a social, cultural and business network of 20,000 members in New England. Ms. Lisovskaya is a sought-after voice teacher. Olga's life purpose is to inspire positive change through connections for life, coaching and art performances. www.OlgaLisovskaya.com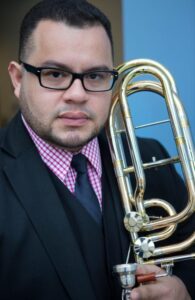 Angel Subero, trombone
Angel Subero is a Venezuelan trombonist who attended the Conservatorio Itinerante in Caracas, Venezuela, where he studied with the legendary Michel Becquet. After coming to the United States in 2001, he attended Boston Conservatory, where he studied with Lawrence Isaacson, and New England Conservatory of Music, where he studied with Douglas Yeo. He also studied with John Rojak at the Aspen Music Festival.
Subero has performed with numerous orchestras, including the Boston Symphony Orchestra, Boston Pops Esplanade Orchestra, Boston Ballet, Pittsburgh Symphony, American Composers Orchestra, the Venezuela Symphony, Simon Bolivar Symphony, and the Boston Modern Orchestra Project, to name a few. He has worked with such conductors as John Williams, Seiji Ozawa, Kurt Masur, Sir Colin Davis, Christoph von Dohnanyi, Keith Lockhart, and Robert Spano, among many others.
In the realms of jazz, Latin and commercial music, Subero has appeared with artists such as Bob Brookmeyer, Aretha Franklin, Slide Hampton, Jim McNeely, Claudio Roditi, Danilo Perez, Chris Botti, and many more.
Ukrainian Reflection
"Oh Bright Moon" from the first Ukrainian opera; "Cossack Beyond the Danube" was written by S. Hulak-Artemovsky in 1936 and was arranged for soprano and strings for this performance by Luke Blackburn.
English Translation:
Oh, bright moon, beautiful stars,
(which are) The shining eyes of the dark night,
I beg you, lighten my chest,
Bring news from my homeland!
Oh, gray eagle, fast falcon,
which live freely in an enviable destiny,
I beg you, lighten my chest,
Bring news from my homeland!
Oh, quiet Danube, green grove,
Strong waves, mighty winds,
I beg you, lighten my chest,
Bring news from my homeland!
WILLIAM GRANT STILL (1895-1978)
Danzas de Panama
The prolific composer William Grant Still was experienced in just about every aspect of music in American life, and his talents were such that he became a pathbreaker in all of them. He was the first black to have a symphony performed by a major orchestra, the first black to conduct a major symphony orchestra, the first black to have an opera produced by a major opera company, and the first black to conduct a white radio studio orchestra. He worked in both "popular" and "classical" styles. After studies at Wilberforce College (which he left without a degree) he worked for W. C. Handy. Later he enrolled at Oberlin Conservatory, where he was encouraged to compose. He played the oboe in theater orchestras (including that for Sissle and Blake's landmark show Shuffle Along) and studied in New York with Varèse. George Chadwick offered him a scholarship at the New England Conservatory and encouraged him to compose specifically American music. He was an arranger for Handy, Paul Whiteman, and Artie Shaw. He conducted the CBS studio orchestra for the radio show "Deep River Hour" in New York, and he worked in Hollywood for films and television (including "Gunsmoke" and "Perry Mason"). Still was a prolific composer in all musical forms, creating a total of five symphonies, nine operas, four ballets, and many other works. His Afro American Symphony was performed by the Rochester Philharmonic in 1931; it marked a breakthrough for serious concert music by black composers.
In a career so long and so marked by prolific creation in every possible medium, it has been difficult to get a firm handle on Still's full achievement. But with the substantial number of revivals of his work in the year of his centennial, 1995, and a large number of new recording and reissues of older recordings, it has become clear that he was a composer of extraordinary range, warmth, and color. Whether writing music in a consciously "ethnic" style (Latin American rhythms, African-American spirituals, or even Jewish melodies) or in jazzy arrangements or serious concert works, Still was a master of all he undertook.
Danzas de Panama is a suite of four dance melodies that had been collected by Elizabeth Waldo. Still arranged them first for string quintet, then again for string orchestra. In both versions he was concerned to capture the spirit of the original dances and their Panamanian character, and he did this by calling for special effects from the instruments. The Tamborito is, as its name ("little drum") suggests, basically a percussive dance, and Still calls for the players to rap with their knuckles on the backs of their instruments. The Mejorana is a dance in improvisatory style usually played by several guitars (in counterpoint) and a three-stringed native instrument similar to a violin; such a combination is easily adapted to the instruments of a string orchestra. The Punto is a graceful dance in 6/8 time with two sections whose names suggest foot movement: Zapateo ("shoe tapping") and Paseo ("promenade"). The final dance, Cumbia, is the most sensuous of them all and the one least linked in any way to European dance elements. When danced in Panama, the women move through the streets holding lighted candles above their heads, while the men dance around them in an abandoned manner.
–Steven Ledbetter
FELIX MENDELSSOHN
Symphony No. 4 in A, Opus 90, Italian
Jakob Ludwig Felix Mendelssohn was born in Hamburg on February 3, 1809, and died in Leipzig on November 4, 1847. He began composing the Italian Symphony while in Rome in the late winter and spring of 1831. Its first performance took place in London at the concerts of the Philharmonic Society on May 13, 1833. The symphony is scored for flutes, oboes, clarinets, bassoons, horns, and trumpets in pairs, timpani, and strings. Duration is about 27 minutes.
As the scion of a well off middle class German family, Felix Mendelssohn undertook the Grand Tour to the centers of Classical culture in Italy; his tour was somewhat grander than most, lasting from May 1830 to late June 1832, including long stops in Rome, Paris, and London (this latter was familiar territory, since he had already spent some eight months in the British Isles in 1829). Mendelssohn was a great letter writer; his travel impressions have been preserved in a voluminous correspondence embellished with his elegant water-color drawings. His account of travel experiences, sightseeing, and visits is a delightful one, with reports here and there of musical plans.
From Rome on December 20, 1830, Felix wrote to his family, "The Hebrides [Overture] is completed at last, and a strange production it is." After mentioning a few small vocal pieces he was working on, he added, "After the new year I intend to resume instrumental music, and to write several things for the piano, and probably a symphony of some kind, for two have been haunting my brain." The two symphonies in question were the ones we know as the Scottish and Italian symphonies. The first of these, like the Hebrides Overture, was a reaction to his visit to Scotland the year before, while the Italian Symphony grew out of his new experiences in Rome and Naples.
Just after Christmas Felix complained of absolutely miserable rainy weather which, no doubt, made it easier for him to settle down to composition instead of running off to Tivoli for a visit to the Este villa and its exquisite gardens and fountains or some other sightseeing wonder. And though the weather became springlike by mid January, he was able to write on the 17th that "the two symphonies also begin to assume a more definite form, and I particularly wish to finish them here." In any case, by February 22, 1831, Felix wrote to his sister Fanny (herself a gifted composer):
I have once more begun to compose with fresh vigor, and the Italian symphony makes rapid progress; it will be the most sportive piece I have yet composed, especially the last movement. I have not yet decided on the Adagio, and I think I shall reserve it for Naples…The Scottish symphony alone is not yet quite to my liking; if any brilliant idea occurs to me, I will seize it at once, quickly write it down, and finish it at last.
He remained in Rome through Easter in order to experience the full effect of the Papal choir's liturgical music, his only complaint being that the beautiful weather drove away the "misty Scottish mood," so he chose to set aside that symphony for the time being.
It was typical of Mendelssohn to work out a sketch at great speed; but it was equally typical of him to exercise acute self criticism in polishing the score before declaring it finished. This happened with most of the works he wrote or drafted in Italy: plans and drafts went quickly, but completion was delayed.
None of the pieces that he had so boldly predicted would be finished before he left Italy yet met his standards. And although he did in fact complete the work the following year, he kept claiming to find flaws in it serious enough to demand extensive revision. His doubts are hard to credit today, since the Italian Symphony has long been regarded as one of his most perfect works, but whatever faults—real or imagined—meant that it only appeared (except for a single performance in London) after his premature death. The "Opus 90" of the Italian Symphony gives a misleadingly false impression as a late work, whereas it is actually one of the most brilliant early orchestral scores of this incredibly precocious artist.
The richly assured orchestration makes its mark in the opening measures with a background of repeated chords in the woodwinds over which the violins sing their enthusiastic, soaring theme. The sonority of the first measure alone is enough to identify this score out of the entire symphonic repertory. The racing activity never stops or slows, even when the strings become the lightest staccato whisper to bring in the clarinets and bassoons with the secondary theme. But shortly before the end of the exposition the activity slows to allow the solo clarinet one superbly romantic moment, whispering the opening theme in notes twice as long as before. As is usually the case with sonata form first movements, Mendelssohn puts a repeat sign at the end of the exposition; in this case, though, the repeat is not simply conventional; it is absolutely essential, since the first ending contains a new idea in the oboe and then in the strings—a soaring upward that settles gracefully down to the cadence—which will play an important part in the coda. Much of the development is based on another new idea treated imitatively in the strings with punctuation from the woodwinds until the latter assert the importance of the main theme on top of everything. The new theme is recapitulated in place of the romantic moment for the clarinet from the exposition, and the coda works all of the preceding ideas in with the concluding material from the first ending in a wonderfully imaginative web.
Mendelssohn wrote to his sister Fanny that he would look for inspiration for the second movement in Naples. It may suggest a religious procession through the streets (although such a procession need not have been limited to Naples). The opening figure, a "wailing" gesture, introduces a measured and rather somber marching theme in D minor.
The third movement is the embodiment of grace, with a light but poetic touch in the horn calls deftly answered by violin and flute scales in the Trio.
The saltarello of the finale is a whirlwind of rushing activity, from the orchestral trills and punctuating chords of the first measure through the unison statement of the basic rhythm at the end. The biggest surprise, perhaps, is that Mendelssohn begins in the minor mode and, contrary to all expectation, refuses to yield, even in the very last measures, to a conclusion in the major. But the energy and the brilliant orchestration of the whole, the unflagging verve and ceaseless activity, bring on a conclusion that, for all its surprises, is as fully gratifying as any that Mendelssohn ever wrote.
The Italian Symphony is the product of a very young man—of twenty two to twenty four years. Not so young, certainly, as the composer of the Octet or the overture to A Midsummer Night's Dream, but still a man in the first flush of his mature powers. And, though Mendelssohn can hardly be said to have ever been an old man, it is unlikely that the intended later revisions, if he had ever gotten around to them as he hoped, could have had any effect but to vitiate the overwhelming sense of youth that we find in this score.
© Steven Ledbetter
ASTOR PIAZZOLLA (1921-1992)
Tango Suite
Born in Mar del Plata, Argentina Piazzolla immigrated to New York with his family, where he grew up on the Lower East Side. Sports and other activities interested him far more than did the tango, the music of his father. The gift of a folk instrument, the bandoneón began to change that, however.
In characteristic fashion, the first music that Piazzolla played seriously on the bandoneón was Bach, which he learned from the Hungarian pianist Bela Wild. Whatever his early reservations, however, Piazzolla eventually took to the instrument and the tango repertory. He was 16 years old when his family returned to Argentina, and he was soon working regularly in the best tango orchestras, including that of Aníbal Troilo. In 1944 Piazzolla left the Troilo band to form his own ensemble, the Orquesta del 46, to play his own compositions. At that time he also was studying composition with Ginastera. A symphony he composed in 1954 for the Buenos Aires Philharmonic earned him a scholarship to study in Paris with Nadia Boulanger, who advised him to cultivate the tango as his true mode of expression.
Piazzolla's tango revolution was very much a reflection of its time and place – the political, economic, and cultural turmoil and ferment of Argentina in the second half of the 20th century. Yet even at the time it proved readily transferable, appealing to hearts and minds, ears and feet, around the world, and it continues to cast a long and inspiring shadow across poly-cultural musicians and audiences today.
From the 1960s comes a series of Angel pieces. These pieces were written as part of "Series del Angel" for an intended stage play "Tango del Angel" in which an angel heals the spirits of an impoverished area of Buenos Aires. Each movement reflects the title and is deeply emotionally charged. Written in the 1960's these pieces shook the conservative world of tango.